An Archipelago in a Landlocked Country by Elisa Taber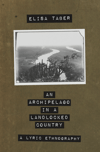 An Archipelago in a Landlocked Country is the lyrical storytelling of fieldwork conducted in Neuland, a Mennonite colony in Paraguay's Boquerón Department, and Cayim ô Clim, the neighboring Nivaklé settlement. The author was conceived in Neuland in 1990, and returned in 2013 and in 2016.
This multi-sequentially read book shifts in genre from ekphrastic descriptions of thirty-second films shot in Asunción, Filadelfia, and Neuland; to a short story collection inspired by metonymically translated Nivaklé myths; and finally, a novella that mythologizes the life of a third generation Mennonite woman.
These three parts are not meant to be read in order. The hypertext gestures towards the omitted films and translations. This structure attunes readers to absent presences. The author's narratives render other kinds of realities—Nivaklé, Paraguayan, and Mennonite ways of being made over—and her own. This "unweaving" technique is inspired by ñandutí—a spider web pattern created by unraveling threads from a fabric.