Philosophy of the Sky by Evan Isoline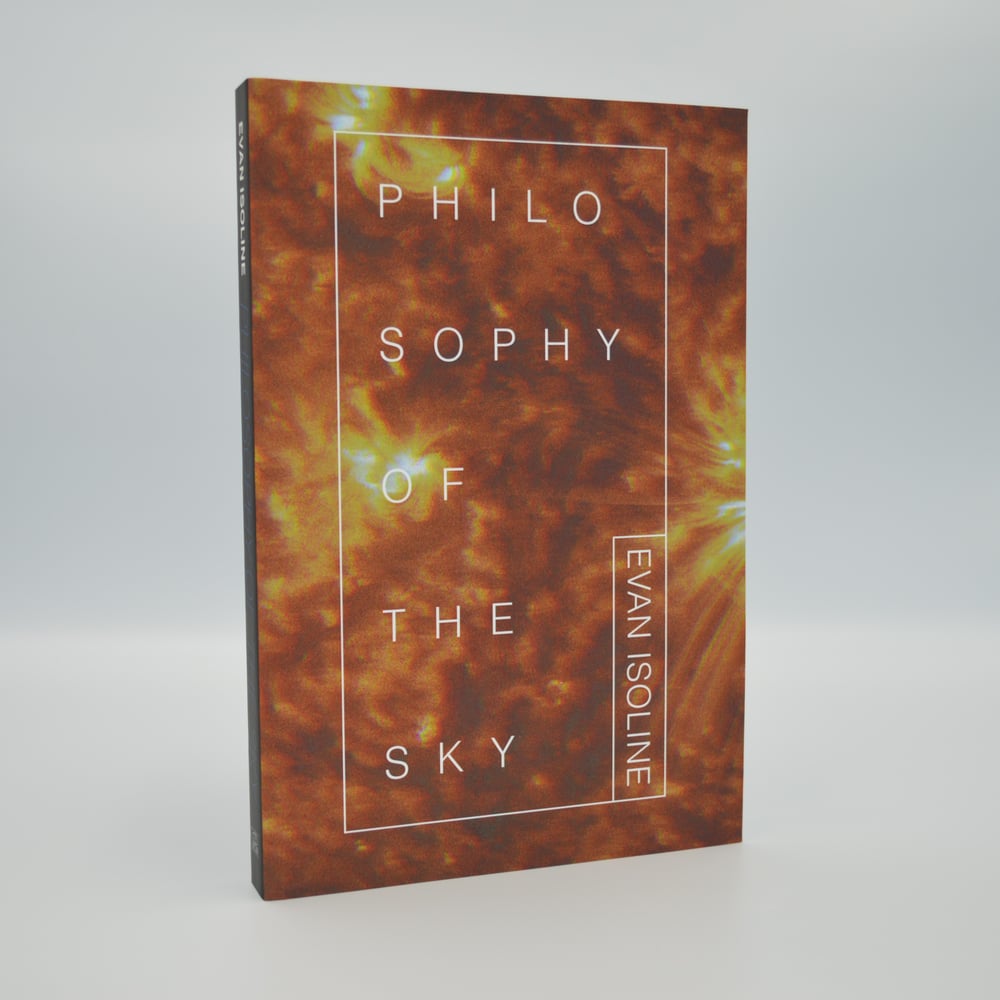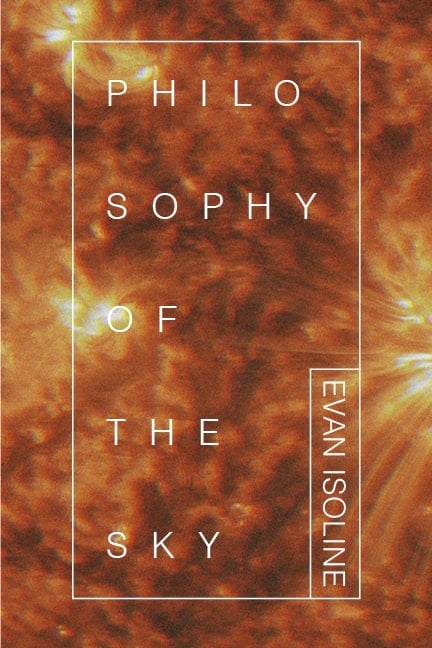 PHILOSOPHY OF THE SKY is not a work of philosophy in an academic or traditional sense. It is, however, highly philosophical, totemic, and personal. In the book, Evan uses the sky as an abstract philosophical concept, like a cinematic backdrop, to explore conceptual associations between selfhood, objecthood, the body, apocalypticism, masculinity, masturbation, and self-destruction.

The text, symbol, and glyph are partially augmented by chance cut-up processes such as language translators, Markov chain generators, and AI natural language generators for the purpose of eliminating narrative preconception, discovering subconscious visual realms, and spotlighting a point of tension between natural and artificial aesthetic forms. The formatting of text becomes an important cinematographic framing tool.
THERE ARE A FEW BOOKS I'VE READ THAT FELT LIKE THEY WERE DIRECTLY ANSWERING THE CALL MADE BY ROBBE-GRILLET IN TOWARDS A NEW NOVEL. SLOW SLIDINGS BY M KITCHELL IS ONE, APPARITIONS OF THE LIVING BY JOHN TREFRY ANOTHER. I FELT EXCITED WHILE READING EVAN ISOLINE'S PHILOSOPHY OF THE SKY BECAUSE IT WAS CLEAR I'D FOUND ONE MORE. THE LANGUAGE IS SPARE YET RELENTLESS, THE FORM EXACTLY AS EXPERIMENTAL AS IT NEEDS TO BE TO PULL THE RUG OUT FROM YOU AGAIN AND AGAIN. A COMPLETELY UNIQUE AND REWARDING EXPERIENCE.
— GRANT MAIERHOFER
WHEREAS DANIEL SCHREBER GAVE US TESTIMONY FROM THE OTHER SIDE OF THE SUN, AND NERVAL TOOK CONTROL OF THE MOON, EVAN ISOLINE'S DEBUT WANTS TO GRASP THE ENTIRE SKY, TO FOLD ITS HIDDEN ASPECT INTO A SECRET WEAPON AND BLOW OUR BRAINS OUT ACROSS THE HEAVENS. WITH A NERVE-LOGIC MADE HIS OWN, ISOLINE'S DEMENTED EMPIRICISM HALLUCINATES A SPRAWLING, ONANISTIC ONTOLOGY: WE DISCOVER HOW THE SKY IS ALSO THE SEA (THE SKY THAT FELL TO EARTH), THE BEACH A DESERT, AND HOW IT WAS ONCE SWALLOWED BY A SHARK (WHOSE ATTACKS NOW CONSUMMATE THE ULTIMATE SEXUAL UNION). A LOVE LETTER TO IMAGINATIVE EXCESS AND THE FAILURES OF REALITY, THIS TOO REAL SIMULATION WILL DRY HUMP YOUR LEG LIKE IT WAS THE LAST GLORY HOLE OF GOD, AND YOU'LL BE GLAD OF THE ATTENTION.
— GARY J SHIPLEY